The purpose of this position is
Im Zuge der Expansion verstärken wir das Team in Steyregg (bzw. wegen Neubau ab 2020 in Engerwitzdorf) mit einer/einem IT Support für 1st und 2nd Level (w/m) welche/r Teil eines leistungsstarken, breit aufgestellten Teams wird und an den IT Manager berichtet.
In dieser Position besteht die Möglichkeit sich in verschiedenen Bereichen der IT zu spezialisieren und sich darin weiterzuentwickeln. Zudem sind die Mitwirkung und zukünftige Übernahme von eigenen IT-Projekten ein weiterer Bestandteil.
Ihr zukünftiges Aufgabengebiet:
Erster Ansprechpartner/in für alle IT-Anfragen der deutsch- und englischsprachigen User und Durchführung von Anwenderschulungen
Fehleranalyse, Qualifizierung von Erstlösungen und Dokumentation von Tickets
Weitergabe von komplexen Problemen an die zuständigen Experten oder selbstständige Lösung bei entsprechenden Kenntnissen
Einrichtung von Arbeitsplätzen, Systemumgebungen und Applikationen
Installation und Wartung von Computern und anderem IT Equipment
Zusammenarbeit mit unserem externen Managed Service Provider und Dienstleistern
Betreuung und Wartung der Firmenserver: MS Windwos Server 2012 + 2016, SQL Server 2014, Active Directory, Microsoft Office 365, SCCM, Hyper-V, Sharepoint 2010
Unterstützung in der Systemadministration
Mitarbeit bei IT-Infrastrukturprojekten und Hard- bzw. Softwareinstallationen (Neubau von Hauptstandort)

Your qualifications
Das zeichnet Sie aus
Berufserfahrung im IT Support und Netzwerk Umfeld
Abgeschlossene Ausbildung mit IT Schwerpunkt (IT-Lehre, Fachschule, HTL, Studium)
Sehr gutes EDV Basiswissen (Betriebssystem Microsoft WIN 10, MS Office 2016, etc.)
Kenntnisse in ERP Systemen (Microsoft NAV oder ähnlich) von Vorteil
Sehr gute Deutsch- und gute Englischkenntnisse
Kommunikativer und eigeninitiativer Teamplayer
Eigenständigkeit und Umsetzungsstärke
Bereitschaft zur Weiterbildung und -entwicklung

Our offers to you
Das Besondere an dieser Position

Werden Sie Teil unseres internationalen Teams und lassen Sie sich täglich durch die Zusammenarbeit mit verschiedensten Kulturen inspirieren
Sie suchen nach einer erfüllenden und herausfordernden Tätigkeit? Dann sind Sie bei uns richtig. Tragen Sie täglich dazu bei, dass die Welt jeden Tag ein Stückchen "grüner" wird.
Neben Ihrer persönlichen Weiterentwicklung stehen die Zeichen auch bei Delacon auf nachhaltiges Wachstum
Work-Life-Balance ist kein Fremdwort für uns. Durch eine Gleitzeitvereinbarung und der Möglichkeit von Home-Office ist eine gute Vereinbarkeit von Freizeit und Beruf gewährleistet
Lernen Sie Ihre neuen Familienmitglieder auch abseits vom Arbeitsalltag kennen. Bei unseren Social Events (Teambuildings, Betriebsausflug, Weihnachtsfeier, Grillfeier) kommt auch der Spaß garantiert nicht zu kurz

Legal regulation
Aus gesetzlichen Gründen weisen wir darauf hin, dass für diese Position ein Mindestentgelt von EUR 2.300 brutto pro Monat (auf Basis einer 38h Woche) gilt. Die tatsächliche Entlohnung erfolgt jedoch abhängig von Ausbildung, Erfahrung und individueller Kompetenzen und kann demnach auch deutlich darüberliegen.

DELACON Representative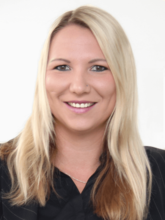 Nicole Mülleder
Recruiting & Staff Development
Delacon Biotechnik GmbH
,
Weißenwolffstraße 14
,
4221
Steyregg
Phone: +43 732 640 531-226
e-mail: jobs@delacon.com