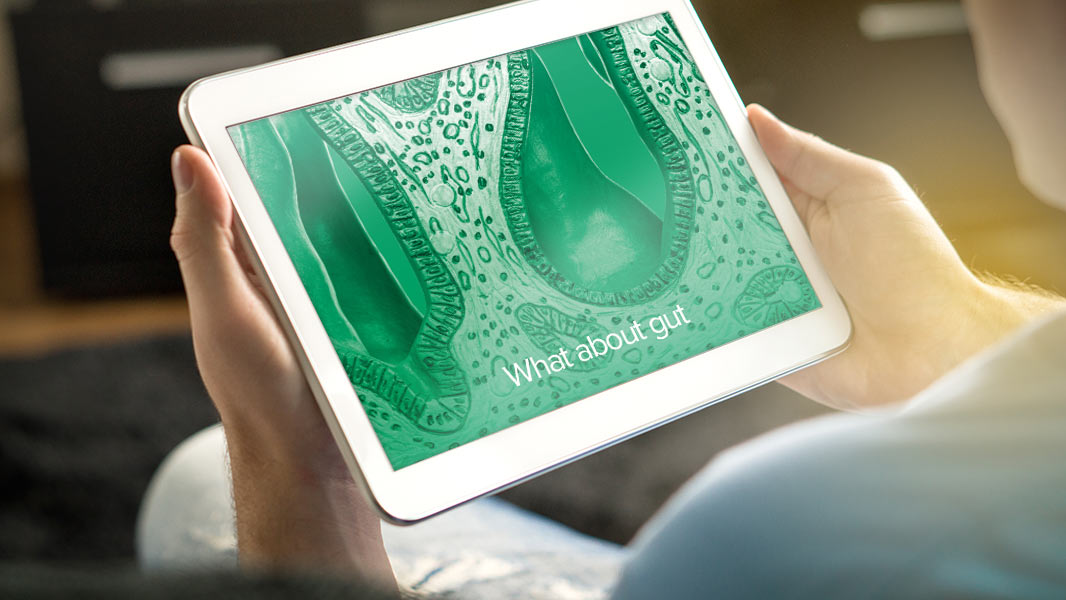 What about gut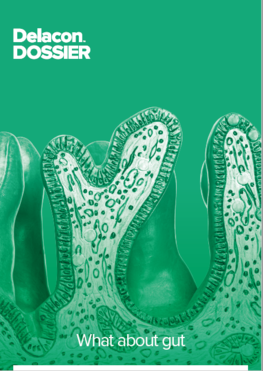 Dossier
Gut health in monogastric animals
Issue no. 9 of our scientific publication
26 pages
Topics include:
- Impact of nutrition on performance and intestinal health
- Current challenges and solutions in monogastric animals
- Quorum sensing and pathogenicity
- Research at Delacon
What about gut (2020)
Three years ago, the first Delacon dossier on gut health was published under the title "Intestinal health in poultry: current challenges and future solutions". In this second dossier we present updated information on intestinal disorders in pigs and poultry. Moreover, we present the latest phytogenic solutions from Delacon for maintaining intestinal health in monogastric animals.
Since the European Union implemented the ban on the prophylactic use of antibiotics for growth promotion in animals in 2006, it has spread worldwide. Although the therapeutic use of antibiotics to ensure animal welfare is still accepted, the choice of antibiotics is limited to those not used for human application in order to avoid the possible development of antibiotic resistance. Due to their antibiotic activity, the use of ionophoric anticoccidials is also limited in some regions by legislation or as part of branding policy (e.g. "No Antibiotics Ever"). It is therefore clear that the demand for alternative feed additives to stimulate intestinal resilience in monogastric animals against infections will continue to grow, and we expect phytogenic solutions to play a key role.
Biostrong® 510 EC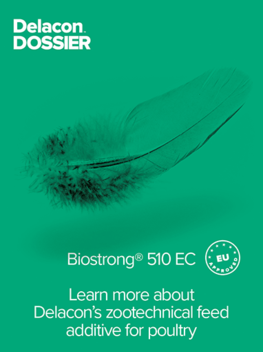 Dossier
Biostrong® 510 EC
Issue no. 8 of our scientific publication
32 pages
Topics include:
Modes of action of Biostrong® 510 EC
Process of zootechnical registration
Current research at Delacon
Biostrong® 510 EC: Learn more about Delacon's zootechnical feed additive for poultry (2017)
Only five years after Delacon succeeded to obtain the first registration for a phytogenic product as a zootechnical additive, on March 9, 2017, Delacon received a second registration, now for one of our phytogenic poultry products. Biostrong® 510 EC met high validation standards of the authorities of the European Union showing the verifiable potential to improve performance of chickens for fattening, chickens reared for laying, minor avian species for fattening and reared for laying. This Dossier provides you background information on various experiments conducted to obtain the registration of Biostrong® 510 EC as a zootechnical additive, further supported by efficacy data on Biostrong® 510. Besides details on e.g. the age-independency of the effects, positive effects on litter quality, foot pad lesions, and shelf life of poultry meat and the efficacy in different avian species, you will find information of Delacon's strict and standardized quality management needed to produce high performing phytogenic feed additives, for which Delacon is known.
Intestinal health in poultry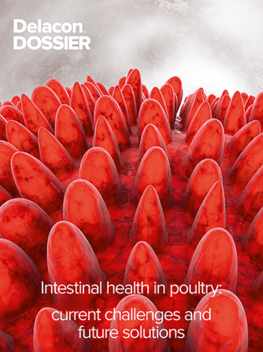 Dossier
Intestinal health in poultry
Issue no. 7 of our scientific publication
24 pages
Topics include:
- Most common intestinal disorders in poultry
- Nutritional strategies and phytogenics to support gut health in broilers and turkeys
Intestinal health in poultry: current challenges and future solutions (2016)

More than ever before, there is a big focus on intestinal health in poultry. Globally, areas expand where in-feed antibiotic in animal production are banned and regulations are implemented to reduce the use of therapeutic antibiotics. This leads to new challenges, increasing the incidence of intestinal disorders as well as challenges for farmers and nutritionists. Delacon is eager to support poultry producers to find solutions to improve intestinal health, not only by phytogenic feed additives but also by different nutritional strategies. Several experts discuss in this dossier intestinal disorders in poultry and strategies how to improve intestinal health in broilers, layers and turkeys. In addition, Delacon presents some future alternatives to antibiotics.
Feed efficiency in ruminants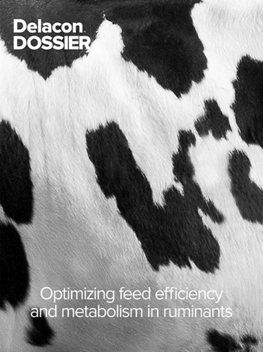 Dossier
Feed efficiency in ruminants
Issue no. 6 of our scientific publication
24 pages
Topics include:
- Low feed efficiency in ruminants
- Improving performance and feed efficiency
- Rumen microbiota and their manipulation
Optimizing feed efficiency and metabolism in ruminants (2014)

This Dossier examines the task of improving feed efficiency in dairy and cattle beef from all angles. The importance of feed additives in manipulating ruminal microbiota for feed cost reduction is discussed as well as the potential of genetic selection for improved feed efficiency. Besides comments on nutrient utilization in ruminants, you will find an article on nitrogen efficiency and information on reduction of greenhouse gases. As a special highlight, a summary on diverse feed additives is given and how they improve performance and feed conversion ratio in ruminants by affecting the rumen or by affecting the animal's metabolism. Further you can read how to improve feed efficiency by optimizing dairy cow health management and by pursuing the right feeding strategies.
Knowledge boost in Science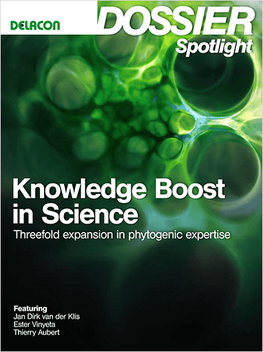 Dossier Spotlight
Knowledge boost in science
Special issue of our scientific publication
12 pages
Expansion in phytogenic expertise:
- Jan Dirk v. d. Klis, Species Leader Poultry
- Ester Vinyeta, Species Leader Swine
- Thierry Aubert, Species Leader Ruminants
Knowledge boost in Science - Threefold expansion in phytogenic expertise (2013)

As a pioneer in the development of phytogenic feed additives, produced with particular regard to sustainability, Delacon has become the worldwide leading brand for intelligent plantbased animal performance. In this dossier, Delacon introduces to you its "Species Leader" Team taking the lead and giving excellent technical service for our phytogenic products. Read their thoughts on Delacon's mission to improve animal nutritional efficiency, health and food safety while minimizing environmental impact.
EU registration - feed additives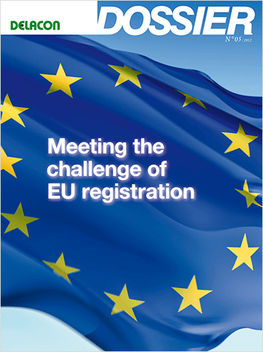 Dossier
EU registration - feed additives
Issue no. 5 of our scientific publication
8 pages
Features the EU registration process for zootechnical feed additives with special focus on the first phytogenic product obtaining the zootechnical registration
Meeting the challenge of EU registration (2012)

Delacon is proud for being the first producer of phytogenic feed additives globally with a product being approved as zootechnical feed additive by the EU. In this Dossier you can read about Fresta® F for swine nutrition, which is the first performance enhancing phytogenic feed additive registered as a zootechnical feed additive. The Dossier offers background information regarding the legal requirements for feed additives and the evaluation process on the EU level. Further, it offers an insight into the wealth of data upon which the registration is based. Within this Dossier you will also find data on the effects of Biostrong® 510 EC on nutrient digestibility in broilers – these are the basis for the next zootechnical registration of another phytogenic product used in poultry nutrition.
Poultry welfare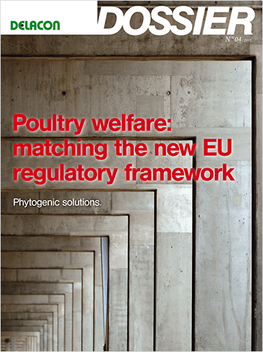 Dossier
Poultry welfare
Issue no. 4 of our scientific publication
16 pages
Topics include:
- New EU regulations & phytogenics
- Poultry feeding for animal welfare
- Pododermatitis & effect on broiler welfare
Poultry welfare: Matching the new regulatory framework (2011)

During the last decades, poultry welfare has gained considerable attention. Consequently, a number of regulations have been issued by the European Union. Regulations concerning housing and management condition, but also feeding, slaughtering and transport practices. Nowadays, a lot of countries outside of the EU follow these regulations and implement new legislations and standards. In this dossier, we try to give an insight into the legal framework concerning broiler and layer welfare in the European Union. What are the consequences for poultry producers when facing stricter welfare regulations? And what can the feed industry contribute to improve poultry welfare and help farmers to meet new regulations?
Trends in animal nutrition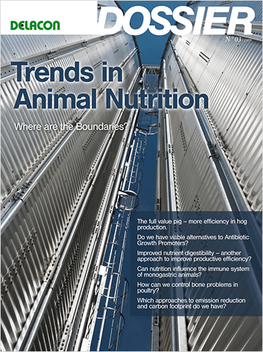 Dossier
Trends in animal nutrition
Issue no. 3 of our scientific publication
36 pages
Topics include:
- More efficiency in hog production
- Alternatives to antibiotic growth promoters
- Improved nutrient digestibility
Trends in Animal Nutrition - Where are the boundaries? (2010)

With an eye on the ban of antibiotic growth promoters in the EU 2006, this Dossier's issue deals inter alia with alternative feeding strategies, which furthermore have to provide a solution to stabilize gut functionality and gut integrity. Within this 36 pages, phytogenic feed additives and their beneficial effect on nutrient digestibility are explained. Along with an overview of immune-nutrition in monogastrics, a more specific article deals with future challenges and developments in poultry production and how nutritional factors contribute to broiler health. When it comes to boundaries in animal nutrition, the influence of animal production on the environment has to be taken into account. Thus you will find information on the calculation of animals' carbon footprints, as well as on approaches to reduce ammonia emissions.
Efficient nutrition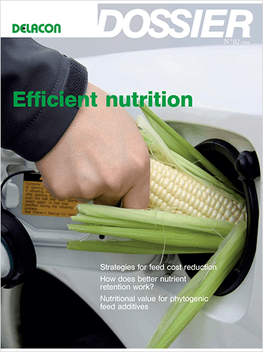 Dossier
Efficient nutrition
Issue no. 2 of our scientific publication
20 pages
Topics include:
- Strategies for feed cost reduction
- How does better nutrient retention work?
- Nutr. value of phytogenic feed additives
Efficient nutrition (2008)

The reduction of feed costs is always a topic of vast interest. This Dossier gives you an overview of the current raw material situation, which has worsened dramatically in the last years. Furthermore, we have compiled the many advantages of phytogenic feed additives, which could deliver truly significant contributions for a sustained lowering of feed costs. Much more so than in the past, research and development have concentrated in recent years on the modes of action of plant-based active agents in animal feed. Herein, you find approaches to increase profitability with the use of phytogenic feed additives and an explanation of Delacon's Performizer concept to optimize both, economic and zootechnical performance.
The ammonia dilemma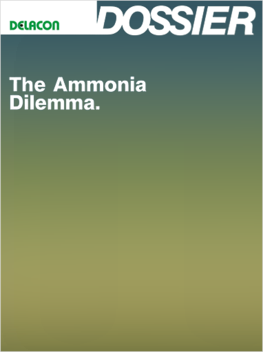 Dossier
The ammonia dilemma
Issue no. 1 of our scientific publication
12 pages
Topics include:
- Agriculture to blame for emissions?
- Reducing ammonia by up to 50%
- Nature as the "best available technology"
The Ammonia Dilemma (2007)

Agriculture is the main guarantor of ammonia emissions. Next to the negative effects on environment, ammonia does also affect animal's health, welfare and performance. Around 30 percent of the nitrogen ingested through feed is utilized by the animal´s body. The rest is excreted via feces and urine. The excreted nitrogen is split by urease, a bacterial enzyme in the intestinal tract of animals, into carbon dioxide and the harmful ammonia. The approach of Delacon´s products is to increase nutrient digestibility and minimize the activity of urease with natural substances. Read more about ammonia and Delacon`s approach in this dossier.
Zootechnical Registration: Proven efficacy vs. believed benefits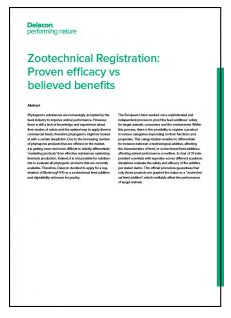 White paper
- Zootechnical Registration
- Independent Evaluation
- Proven efficacy
Phytogenics substances are increasingly accepted by the feed industry to improve animal performance. However, there is still a lack of knowledge and experience about their modes of action and the optimal way to apply them in commercial feeds, therefore phytogenics might be looked at with a certain skepticism. Due to the increasing number of phytogenic products that are offered on the market, it is getting more and more difficult to reliably differentiate 'marketing products' from effective substances optimizing livestock production. The registration as a "zootechnical feed additive" and the underlying independent scientific evaluation by EU authorities gives proof of a product's performance.
A Guide for Phytogenics in the Post-AGP Era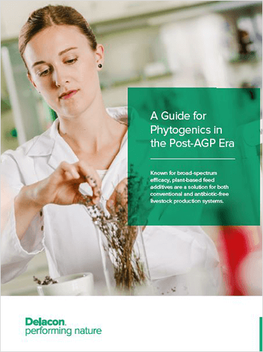 White paper
A Guide for Phytogenics in the Post-AGP Era
- What are phytogenic feed additives?
- The benefits of phytogenics in your feeding program
- Phytogenics as a solution for both conventional and antibiotic-free livestock
- The high trust and acceptance of consumers towards phytogenics
A Guide for Phytogenics in the Post-AGP Era
Since the ban on antibiotic growth promoters in the European Union in 2006, phytogenic feed additives have been on the rise in global animal production. The United States banned subtherapeutic use of medically important antibiotics for growth performance in 2017, some Asian countries like South Korea and Indonesia did as well. As feed additives receive increased attention among scientists, nutritionists, feed manufacturers and producers, phytogenic feed additives are moving further into the spotlight due to their holistic and broad- spectrum efficacy. In particular, phytogenic feed additives show enormous potential for their impact on performance, sustainability, feed and food safety.