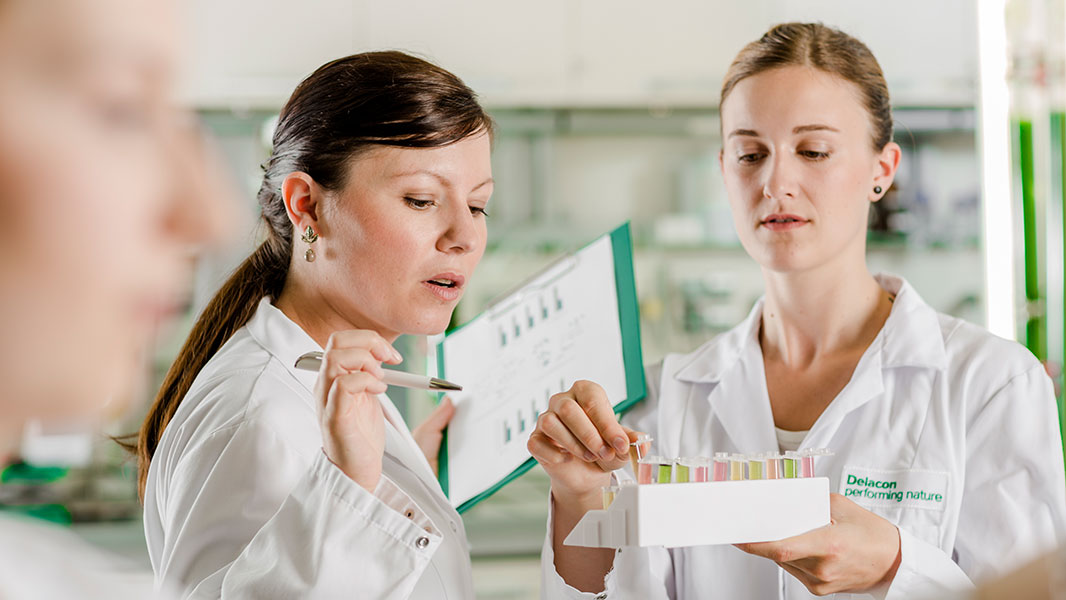 Officially proving the claims
Zootechnical registration of phytogenics
Did you know that in the European Union, every phytogenic product must pass the authorization process as zootechnical feed additive, if efficacy claims are used?
"A zootechnical feed additive is any additive used to affect favourably the performance of animals in good health or used to affect favourably the environment. "
Delacon was the first company obtaining zootechnical registrations for phytogenic products. A complex authorization process is required to independently evaluate the efficiency and safety of a phytogenic additive:
Did you know?
The more complex a product is, the longer the evaluation time by the EFSA will take, compared to products consisting of only a few single substances with no or only little synergistic effects. At Delacon, we develop and manufacture complex plant-based phytogenic feed additives consisting of hundreds of single compounds. The EFSA is looking into the detailed composition of each ingredient, the constituents of essential oils, as well as all herbs & spices. Therefore, Delacon provided a lot of supplementary information as well as a vast number of significant studies and trials using a variety of different methods.
Scientific gold standard – at Delacon ­and in the industry
The zootechnical registration is seen as the scientific "gold standard" in the feed industry, as not only the safety but also the efficacy of the product has been officially confirmed by EFSA.
Extensive research and high-level quality management are the basis for the achieving a zootechnical registration – two key factors, which are consistent for all Delacon products. So far, two Delacon products have gone through the zootechnical registration process.
Fresta® F was the first phytogenic product receiving an EU registration as a zootechnical additive in 2012 with ten years validity. The EFSA risk assessment concluded in 2011 that the product was safe and had the potential for improving growth rate of weaned piglets.
Biostrong® 510 EC has the potential to be efficacious in improving performance of chickens and minor avian species, both for fattening and reared for laying. In 2016, EFSA found the product being both, safe and effective, in 2017 the zootechnical registration was published.